News
Our latest treat made a family of Celtics fans very happy! Check out the photos on our Facebook page!
Recent Posts
Come bid on on a luxury stay in Boston at our 10th Annual Amy In Bloom Auction. XV Beacon Hotel reigns over Boston's historic Beacon Hill neighborhood in its turn-of-the-century landmark Beaux Arts building. The modern furnishings counterbalanced by a grand staircase of marble, mahogany paneling and original caged-glass elevator reflect how past lives…
read more »
REGISTER TODAY!  Come help us celebrate 10 years of helping cancer patients in need through our unique community based program. This year will be full of amazing items that are sure to start a bidding war among you and your friends. JUST ADDED:  Our favorite bidding war – a pet portrait by Kelly Jo Shows…
read more »
We are pleased to announce our 10th Annual Amy In Bloom Auction and Fundraiser. Register today!
Adele and our Featured Online Auction Items  We are now accepting bids and absentee bids for featured items, including sold out Adele tickets! Adele is playing at TD Garden on September 14th and we have 2 tickets in the exclusive Heineken Boardroom – which includes dinner (and great views of the songstress). These tickets have…
read more »
You're invited to join us for our 9th annual auction and fundraiser on May 1st at the Portsmouth Harbor Events and Conference Center! For more details and registration please click here. We look forward to seeing you there!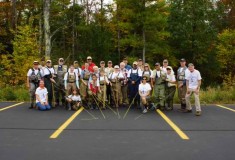 Our wonderful friends at Great Bay Trout Unlimited have created a lovely video from our 2014 Respites with Rina event Fly Fishing with Amy. This event is a personal favorite for many Amy's Treat volunteers as Amy loved being on the water (and in it!). Check out all the fun we had last year with…
read more »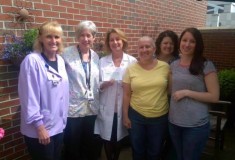 Thank you to Adeline Wixson for raising $600 at her yard sale! Adeline and her friend Lisa, who accompanied Adeline to nearly every chemo visit, presented a check to the SCC staff last week and we could not be more appreciative!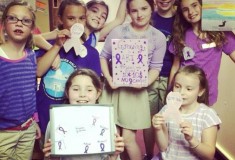 Thanks so much to our 3rd grade friends at Portsmouth Christian Academy for raising over $100 for the patients at the Seacoast Cancer Center. They came up with this idea all on their own and with the help of their art teacher, Mrs. Corso, were successful in creating and selling all sorts of pieces of…
read more »
"Dear Amy's Treat, We had such a wonderful night! Those seats were amazing. The kids loved it. That place has a great energy. Thanks for making it happen."
Jesse and Emily When nurses learned that their patient Jesse and his girlfriend Emily were planning to marry they sprang into action and contacted Amy's Treat to help make this a very special occasion for them both. Olive Garden in Newington had been the site of their first date and so they wanted it to…
read more »