News
Our latest treat made a family of Celtics fans very happy! Check out the photos on our Facebook page!
Recent Posts
"To Amy's Treat, I have stage 4 cancer and going downhill slowly. I tell you this so that you understand that my words are truth and not social etiquette. I have lived a simple life having five daughters and caring for them all that I can. I have never had power toys, travel or special…
read more »
Brandi Carlile Concert with dinner at Jerry Remy's and a door to door Limo ride for Shana and her friends! A trip to the Isabella Stewart Gardner Museum for Judy and Lisa.
Michelle Sayers enjoyed two special nights out thanks to Amy's Treat and a couple of very generous donors who offered up their season tickets. Realizing a dream to watch the Red Sox and Patriots in person, Michelle shared her memorable night at Gillette with her sister Jessica and with her Dad at Fenway. Amy's Treat…
read more »
"Dear Amy's Treat, This gift is in memory of my beloved husband, Dave. Only once during his entire illness did I see him overcome with emotion. That was when he opened the card containing Amy's Treat gifts. The power of kindness was overwhelming. It is my hope that through his spirit others will be touched…
read more »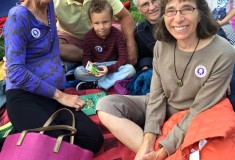 We all had a wonderful time at Peter Pan thanks to Prescott Park Arts Festival and Seacoast Trolley!
DOVER – Dr. Barbara Shea, medical oncologist from the Seacoast Cancer Center in Dover, was recently selected by the Robert Kraft family and The New England Patriots as a 2009 Community MVP for her volunteer work with Amy's Treat, the nonprofit for which she is a founding board member and which benefits the patients of…
read more »
On May 2nd, David, with the help of Amy's Treat, checked "Driving a Race Car" off his bucket list when he took 8 laps around the track at New England Motor Speedway in Loudon. "I wanted to thank you for giving David the chance to drive a NASCAR! Thank you from the bottom of my…
read more »
On June 15th, Amy's Treat lost its compassionate compass when founding board member Cecile Dubois died peacefully at home with her loving family after a 23 year battle with cancer.  Those that struggle with this disease lost a warm, caring and insightful advocate; those of us that worked with her at Amy's Treat lost a…
read more »
Our Heartfelt Thanks To: The RITE AID Foundation We are delighted to announce that the RITE AID Foundation has awarded Amy's Treat in 2012 with a TEN THOUSAND DOLLAR grant given in the form of $25.00 gift cards to benefit a program we call our "Road to Comfort". The gift cards, which can be…
read more »
Respites with Rina at The Boston Flower Show 27 patients, family and friends were treated to a day roaming around this grand old Boston tradition at the Seaport World Trade Center on Thursday March 15. It was a fantastic place to find some spring gardens in full bloom after the teasing unseasonably warm winter weather…
read more »