Gail Gilmore Remembers Amy
My close friend Lenore first introduced me to Amy more than 20 years ago…
…Amy and her daughter Rachel lived on the other side of Lenore's duplex in Newburyport, and although I don't remember the details of our first meeting I do remember this: I liked Amy immediately and I loved the sound of her laugh. With time I'd come to know many things about Amy – that she was a wonderful mother willing to go to hell and back for her daughter, that she loved good food and great wine, that she was a fantastic cook, that she loved animals, and that she had a sense of humor that was just slightly off center in ways that would have me still laughing days later about something she'd said. But it was when she was diagnosed with cancer that I learned what, at the very core of her, Amy was about.
In the face of a disease that stubbornly failed to respond to treatment, Amy was hopeful, accepting (she once answered, when someone asked her if she ever wondered "Why me?", "No – why not me?"), did her best to live her life normally by taking pleasure in her garden, her animals, and the love and company of family and friends, and dug deep within herself to find spiritual strength. She had totems – the dragonfly and the bear, and I'll never forget the sight of her bear totems lined up on a table at the foot of her bed during the last weeks of her life, keeping silent watch over her. She believed in miracles and she believed in reality, and to her they were not mutually exclusive. One of her favorite sayings was "All nature ministers to hope," and I think that even in the face of a pretty grim diagnosis she never gave up the hope that she would be cured. I once went to visit her and found little pieces of paper taped to the bathroom mirrors, the stove, and the refrigerator with the words "I am well" written on them. It was so Amy. Although I spent time with her in the days leading up to her death, it's not this Amy that comes to mind when I remember her.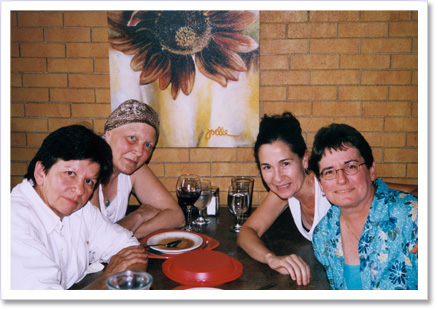 Amy and Lenore and Gail, on right in white, with partner, Marisel
When I remember Amy I think of a laughing, beautiful woman with blue eyes that sparkled, sitting across from me in a house or back yard in Newburyport or Newmarket, or at the Sweet Vidalia, or at a Mexican restaurant in Chelsea, telling a story that made me laugh. I think this one is probably my favorite: There's a small park on a river in back of the house where Lenore and Amy lived in Newmarket, and they liked to take their dog Rosie there to play. One day they found an official sign stating something to the effect that dogs were no longer allowed in the park because of the fact that children played there and should not be subjected to the presence of animal waste. Incensed, Amy went back up to the house and made her own sign, which she then went down and posted in the park. It read: "All ducks and geese crossing this lawn must hold their poop!" It was promptly removed by the same official who'd put up the offensive sign barring dogs from the park, but she'd made her point. I still laugh when I think about this story. Laughter is an interesting thing…somehow, it seems to remain behind us after our bodies have departed this life, as if somehow independent of us; a gift left behind for others to open when needed. If I listen closely I can still hear the sound of Amy's laugh, even two years after her death – that same laugh that is, like the woman it belonged to, unforgettable.
—Gail Gilmore, Ed.D
Assistant Director, Office of Career Services, Harvard University