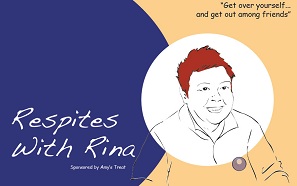 In Honor of Rina Johnson – Keeping our Friend's Spirit Alive
To honor our good friend and volunteer Rina Johnson, who passed away due to complications from cancer on January 14, 2011, the board of directors of Amy's Treat has unanimously voted to name our successful patient outing program Respites with Rina.
These outings were Rina's brainchild, since she knew firsthand the value of patients coming together in community to support one another and to spend time doing something fun that had nothing to do with treatment or status as "cancer patient". Her advocacy and excitement for group outings will live on to inspire and renew the spirits of those who share in the difficult journey that is a cancer diagnosis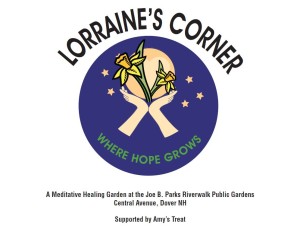 Lorraine's Corner is located at the Joe B. Parks Riverwalk Publuc Garden in Dover, NH. It is the first of our meditative healing gardens to be build way from a hospital setting for anyone who seeks comfort and quiet reflection in a beatiful space designed specifically to promote peace and meditation.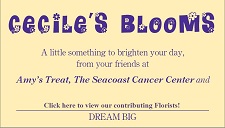 Every month, Amy's Treat surprises cancer patients at their door with beautiful flowers simply to brighten their day. We call this program Cecile's Blooms, in honor of our loving friend, Cecile, a long-time cancer patient and a founding board member of Amy's Treat who was responsible for creating it.
Special thanks to our Cecile's Blooms Contributing Florists:
Garrison Hill in Dover, Ambrosia Gardens in Portsmouth, Flora Ventures in Newmarket, Sweet Meadows in Dover, Christmas Dove of Barrington, Dandelion Florist of Wolfeboro, Abby Chic from South Berwick , Lee's Flower Shop of Lebanon, Flowers on the Fall in North Berwick, Lady Bug Flower Shop in Rochester and Westwind Gardens of Somersworth.
All of those caring businesses deliver to the areas from which the Seacoast Cancer Center draws its patient population. They have made a tremendous difference in brightening a day and renewing a spirit.
As one of our patients wrote:
"Dear Amy's Treat…Just now I had a knock at my door. It was the florist and he left a beautiful bouquet of flowers. The timing could not have been more perfect. What a blessing to know that others care. It made my day."
Amy's Elves are local businesses and their participating employees who come together over several months of planned giving in order to adopt cancer families in need in time for holidays.