Janice White Remembers Amy
Janice was often mistaken…
… for Amy's sister—but mistaken would only be true if all that was considered was parentage. In all other ways that mattered, they were sisters, sharing a friendship that spanned twenty years and it was Janice who was often found at Amy's bedside in her final days.
When Amy was eulogized, it was said of them that they were "two women who believed one of the sweetest sounds on earth was the whoosh of a cork being drawn from a bottle of a complex Cabernet." A thirst for sturdy "reds" was only one of the many things the two had in common—they shared a love of satire; of sewing and of tradition; of holiday parties and decorative tables; of dressing up and dressing down; and of relishing the feel of earth and the coaxing along of tomatoes and beans and just about anything else that could be grown from it.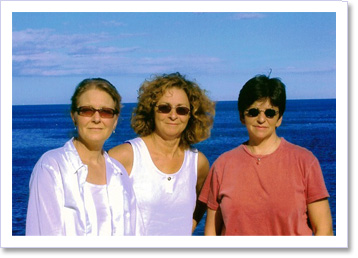 Janice White (center) with Amy and Lenore in 2005.
For years the two had spent many a night theorizing about a cactus that Janice owned which had never bloomed, not even so much as to sprout a bud, dedicating hours of conversation to the why's and probable why not's of its persistent flowerless state. That is until the day after Amy passed away. When Janice stepped out of her house she discovered that her stubborn Spring Cactus had bloomed overnight producing two brilliant pale pink flowers—one for each of them. Hovering above it—dozens upon dozens of dragonflies. A gift from Amy, she believes. How else to explain such a sweet mystery?
—Janice White
More about Janice: When not balancing the books or running the auctions at our Amy in Bloom fundraisers, Janice spends her time working at the Eyeglass Shoppe in Portsmouth where her 'biological' sister, Dr. Sheila White, provides free eye exams and discounted lens for Amy's Treat recipients. She also looks after and provides valuable life lessons to Travis, Emily and Meghan, her adored nephew, niece and granddaughter.