Robin Luczek Remembers Amy
I first met Amy…
…when she came back into the Seacoast Cancer Center after learning that her cancer had returned. Throughout the many months after, I watched and helped to care for Amy as she bravely fought this awful disease with her family and friends always by her side. She was so proud of her daughter Rachel, who was due to graduate from college that spring and one of her primary goals was to be there at her graduation. Unfortunately, she was not able to physically attend but she was able to watch thru an internet connection from her hospital bed. Amy fought long and hard, not for herself but for her loved ones who she knew would miss her dearly and suffer pain due to her loss. After her passing in September of 2007, her partner Lenore and daughter Rachel wanted to show their appreciation for the nurses who helped care for her by getting together for a little celebration of Amy's life. At that time, I felt I made a deeper connection with Lenore and Rachel because I had experienced a similar situation. My mom had passed away 13 years earlier of lung cancer when I was 26 years old and she was just 49 years old. I was just at that point in my life when I needed my mom the most. I had just given birth to my 1st child just two weeks earlier. If she could have been, I know she would have been there physically, but I had had a keen awareness that she was there with me in spirit.
That night we celebrated Amy, Lenore, Rachel and I had discussed how we just knew our loved ones were there watching over us, all the subtle and not so subtle signs that they were still among us. Only someone who has gone through such an awful experience could know the feeling.
Shortly thereafter, Lenore approached me about starting a foundation in Amy's honor and it has just blossomed and flourished ever since. It's amazing how quickly the idea started and how many people have been so generous and kind. But when you think of it, how many of us in the world have been affected by cancer? The goal of Amy's Treat was to give a cancer patient and their family an unexpected treat to forget about their disease and struggle for a just a moment in time and help renew their spirit. Whether it be a Thanksgiving dinner, a night on the town, a family outing to a Bruins' or Red Sox game, a gas card to help cut the cost of traveling for their treatments, a house cleaning, a Christmas tree for the holidays or so many others, Amy's Treat has touched the life of over 600 individuals struggling with cancer and their families in less than two years.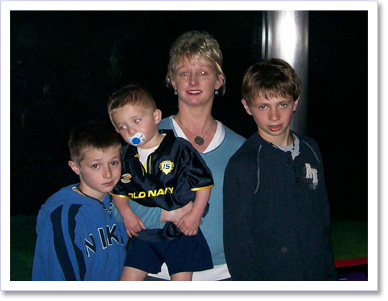 Robin with her pride and joy, Ryan, Griffin and Brady
My name is Robin Luczek and I have been a nurse for 20 years, most of the time involved with cancer patients and their families. I first worked on the Oncology floor at Baystate Medical Center in Springfield, MA then moved to Virginia Beach, VA after getting married and worked for Mid-Atlantic Consultant in Hematology and Oncology. I moved to Lee NH nine years ago with my family and started working in the Seacoast Cancer Center and have been there ever since. There I joined another family who is extremely dedicated to caring for patients and their families during their difficult struggles with cancer. My pride and joy is my three boys Ryan, Griffin and Brady and my black lab Maddy. I know my mom would be so proud of them and my accomplishments over the years.
I am deeply honored to serve on the board of Amy's Treat and hope to continue the work of this AWESOME organization.
—Robin Luczek, Amy's Treat Board Member